---
The first CCI seminar of 2017 was successfully held June 19th at Litteraturhuset, Oslo. The topic of the seminar was "Interview technique and tips – putting your best self forward", given by the senior career advisor and recruiter Lene Rutle from NES Advantage Solutions. Despite the bad weather and heavy rain, 60 people from 21 different nationalities, registered online or at the place, attended the seminar.
Lene Rutle had two job-seeking seminars for CCI before. Last year, she talked about "Knowledge of Job Hunting". This time, she mainly concentrated on how to be successful in a job interview as a candidate. She went through each step of an interview with examples and tips: how to do information preparation, communication channels, number of interviews and focus areas in each interview, how to present yourself, common questions, closing of interview, etc. She unveiled what recruiters are really looking for: qualification, consistency in all channels, trustworthiness, insight of strengths and improvements areas, and motivation.
The seminar lasted more than 2 hours without break, but the audience kept high enthusiasm with questions and discussions until the end of the seminar. The atmosphere of the seminar was quite free. After the seminar, many participants even stood in a long queue and waiting to talk with the speaker with their own questions! The feedbacks from the participants were very positive and good. Most of them were well engaged and inspired by the useful advices and tips. They learned a lot from the seminar and were satisfied with the answers from the speaker. Many people asked for more such seminars in the future.
CPN Seminar: What Can Norway and other Western Countries Gain from Chinese Learning Culture?
We all hope that our children will get the best education and become something in the future. What is the best education? What is the difference in education betweenChina and Norway? What can Norway and other Western countries gain from the Chinese learning culture? Professor Arild Tjeldvoll as the speaker at the seminar will give you some interesting points of view on the questions above,based on his book entitled "Can Norway Learn from China? - School Quality". He will talk about his book in details by discussion, and then answer questions from the audiences.
Prof. Tjeldvoll was professor in the field of comparative and international education at University of Oslo for thirty years. He had affiliated positions and longer research stays at universities in the United Kingdom (Cambridge), the United States (Harvard and Stanford), Sweden (Stockholm), Lithuania (Vilnius and Kaunas), Zimbabwe, South Africa (Western Cape), China (Xiamen), Finland (Jyvaeskylae), Hong Kong and Taiwan (National Chi Nan).
The seminar will be given in English and free of charge.Please register you below.
To register below within June 15th, 2017
Competence Center for Immigrants (CCI) is going to arrange a new job-seeking seminar on Monday 19. June 2017. Job seeking is the act of looking for employment. The immediate goal of job seeking is usually to obtain a job interview with an employer which may lead to getting hired. Knowing how to handle interviews is obviously the key to landing a job. This time the seminar speaker Lene Rutle will give some useful interview tips to the audience.
2017年5月20日,由CPN组织并联合挪威妇女会一起参加了由Oslo¸Drammen¸Moss三个城市共同举办的»国际语言文化节»,共有来自42个国家居住在挪威的社团代表参加了此次活动的游行¸演出和展台展示。
42个国家的社团代表举着自己国家的国旗,拿着小旗子,穿着民族服装,在游行队伍中载歌载舞,热情昂扬的宣传他们国家的文化。长长的游行队伍从奥斯陆火车站出发,经过国会大厦,至市政厅,历史20分钟。代表中国的游行队伍由CPN会员37人+妇女会成员36人组成,举着中国红旗,穿着旗袍,民族服装服装,举着横幅,走在游行队伍中。很多中国游客看到五星红旗,纷纷来到我们的游行队伍前拍照留影合影留念。无论走到哪里,看到五星红旗就看到了祖国。+更令人感动的是,当中国游客看到我们在布置站台时,主动过来帮助我们布置展台,帮助我们把五星红旗挂在了展台上。值得一提的是,我们的CPN会员们积极踊跃参与游行活动,在临近游行开始前,仍有会员要求报名参加游行。
声势浩大的开幕式在市政厅前举行,42个国家的代表们举着着国旗上台用本国语言向观众致意!我们在大会主席台上向挪威人民和来自世界各国的游客致意并展示了中国国旗。
我们CPN合唱队在台上再展歌喉,一曲« 假如你要认识我»,把中国歌曲再一次传向世界,向挪威人民和来自世界各地的游客们展示了旅挪专家学者的风采,台下观众掌声连连,优雅的蓝色演出服得到了很多国家的赞扬。妇女会舞蹈队穿着具有中国特色的青花瓷旗袍表演了舞蹈 «女人花»,向人们展示了中国女人的典雅魅力和婀娜风姿。主办方在演出完后对CPN合唱队和妇女会舞蹈队都作了采访。
感谢所有CPN和妇女会的会员们尤其是参加活动的会员们的支持和积极参与,演出很成功,活动圆满结束。我们将会继续参加明年的«国际语言文化节»。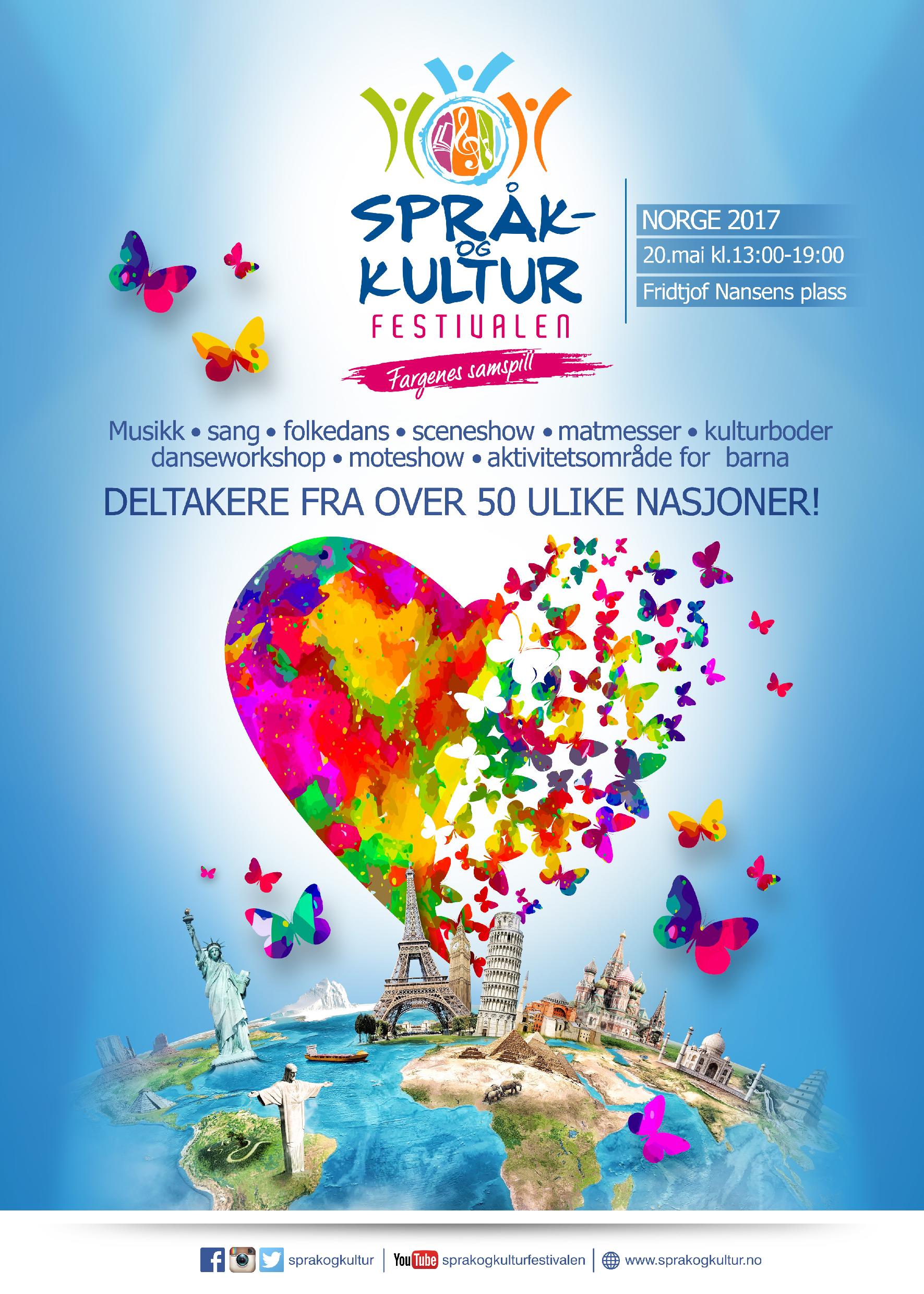 5月20日,周六在 Oslo Rådhuset 前广场将会举办Språk-og kulturfesten活动。该活动由Språk-og kulturforening组办,展示各个国家的文化风采。活动将由:游行活动+节目演出+展台展示组成,请大家参见附件。CPN将参加此次活动。
1. CPN合唱团,将在活动中演出歌曲《假如你要认识我》。
2. CPN游行队伍,由CPN合唱团+CPN理事会成员+CPN会员组成。届时我们将会举着小红旗穿着中国特色的服装。游行活动于13:00开始,历时20分钟。欢迎各位CPN朋友们带着家属和孩子们踊跃加入我们的游行队伍,展示我们伟大祖国的风采!我们将会为每一位参加游行队伍的朋友们孩子们家属们准备美味的中式食物和饮料,因此敬请各位愿意加入我们游行队伍的朋友们把你们的家属孩子人数于15日前告知给我们,以便我们可以提前做好食物的准备。请参加游行活动的朋友们于20日12:20分在奥斯陆Rådhuset前半圆形广场处集合。
此次游行活动,各个国家的游行队伍将会举着自己国家的旗子,穿着自己国家的特色服装,展示他们的风采。
[Official announcement in PDF / including detail program]
Rådet for innvandrerorganisasjoner i Oslo vil arrangere presentasjon og debatt på sin konferanse, "Maktfordeling og mangfold», lørdag 13. mai 2017.
I denne forbindelse inviteres dere til å være med oss for å høre andres meningen, debatt og å bidra med dine innspill.